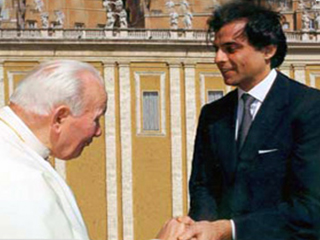 Stefano meets Pope John Paul II
Presented in St. Peter's Square the cd Abbà Pater, a project in which the voice of Pope John Paul II blends with original symphonic compositions.
On January 2, 2000, in St. Peter's Square in Rome, Pope John Paul II received the symbolic first copy of Abba Pater, a CD that sees Him for the first time as the protagonist. In the presence of Vatican Radio Director Giovanni Borgomeo, producers Don Giulio Neroni and Vincent Messina and composers Leonardo De Amicis and Stefano Mainetti, Sony Classical, in his chairman Peter Gelb, announced the release of the first cd combines original music and contemporary arrangements with Papa Wojtyla's voice while reciting and singing in five different languages. A Vatican Radio production, the official voice of the Pontifical State, and Audiovisual San Paolo, one of the world's largest religious publishers. The project was designed to commemorate the Jubilee of the Year 2000 and the twenty-year pontificate of Pope John Paul II. Through the use of contemporary music and classical music, Abbà Pater is a "global" project, intended for all music users. In the project, which took two years of work, Father Borromeo controlled the selection of Papal records from the Radio Vatican archive and gave approval to the original compositions and arrangements by Leonardo De Amicis and Stefano Mainetti. Abba Pater is a kind of universal pilgrimage led by the Pontiff himself, through a variety of languages ​​and expressions to the true discovery of the meaning of the Jubilee of the Year 2000. Abbà Pater contains 11 tracks in which the Pontiff addresses universal themes such as charity, forgiveness and reconciliation, with texts mostly drawn from the Bible. "It is very significant that the Vatican has chosen to combine Pope's messages with contemporary music to reach as many people as possible," said Peter Gelb, president of the Sony Classical, "and we are proud having the possibility to distribute this product all over the world".